AgileBits today updated
1Password for iOS
, introducing a new auto copy feature that's going to make it a lot easier to use two-step authentication for various apps and services.
Whenever you use 1Password to sign into a service on your iPhone that features 1Password integration, the app will now automatically copy any one-time passwords you have associated with that login. That speeds up the login process, because you can have 1Password fill in your account details, and then at the two-factor verification step, the requisite short-term password is already copied to your clipboard.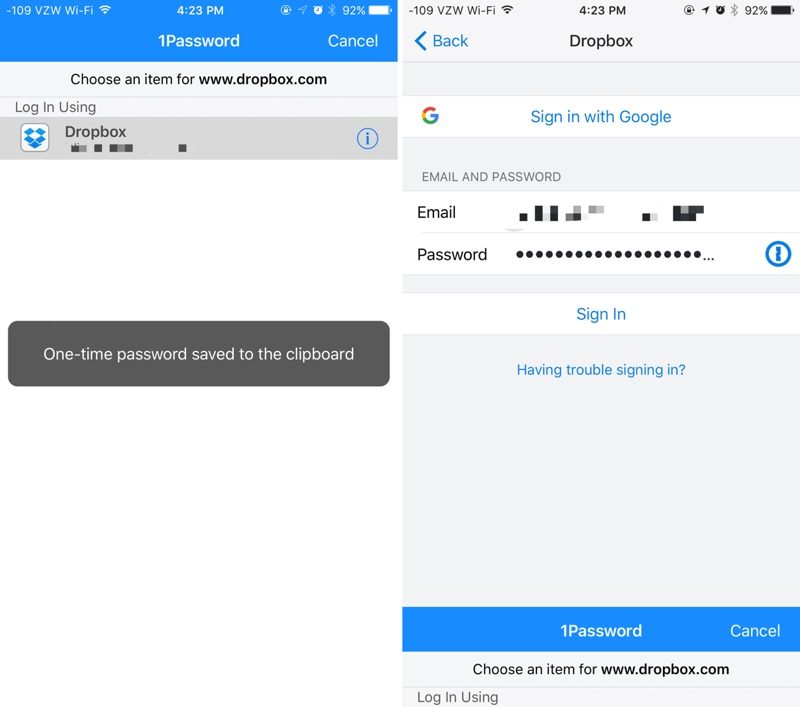 In the screenshot above, for example, I used 1Password to log in to my Dropbox app. Dropbox has 1Password integration, so I just need to tap the 1Password button to fill in my account details and then choose the appropriate account. As 1Password is adding my details, my one-time password for Dropbox's two-step verification process is also copied, so it's super simple to log in.
Prior to this change, to log in to Dropbox, I'd have to open the 1Password app separately to get the one-time password, negating the usefulness of the integrated login feature.
The update also features the ability to create vaults for
1Password.com
accounts, support for Korean, and a tweak that causes item creation and modification dates to now appear in item details. There are also several minor bug fixes and other small improvements, like better translations and the addition of previously used passwords for all categories that support them.