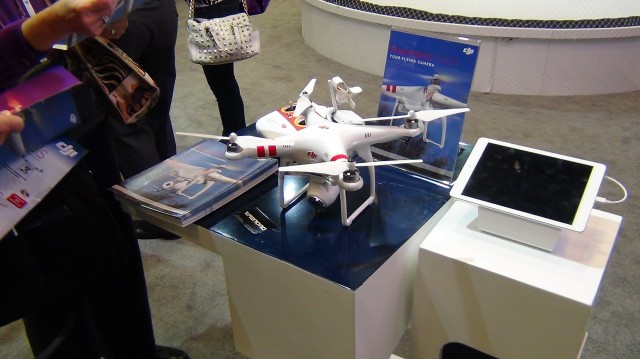 The DJI Phantom 2 on display at CES. The FAA saw one flown in Manhattan as a threat to national airspace.
Sean Gallagher
The Federal Aviation Administration has
slapped a camera-equipped quadrocopter operator with a $2,200 fine
after he "endangered the safety of the national airspace system" with his three-pound aircraft last September. The fine comes just a few weeks after a federal administrative judge ruled in another case that the FAA has no jurisdiction over small remote-controlled aircraft—a ruling the FAA has appealed.
The fine was levied on David Zablidowsky, a 34-year old Brooklynite and bassist for the 1980s cover band
Rubix Kube
, who flew his camera-equipped DJI Phantom quadrocopter off of a building on East 38th Street in Manhattan on September 30, 2013. In the process, he
crashed the aircraft into two nearby buildings
before it plummeted more than 20 stories to a sidewalk below, crashing 20 feet from a pedestrian. The pedestrian then took the drone and reported the incident to police.
gave the video to WABC News
.