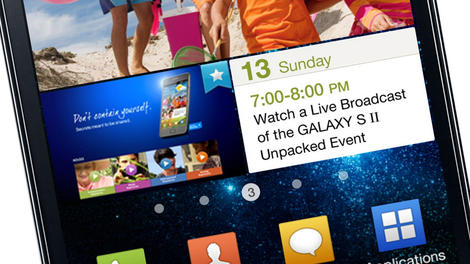 Best Android phone: 10 - 6
Our verdict on the best Android phones - constantly updated
There's one key way in which Android is massively different from its Apple-branded smartphone competition - the number of phones out there running Google's hot mobile OS.
The latest wave of phones rocking up are running
Android 4.4 KitKat
, the latest version of the mobile OS from Google, and they are all pretty fantastic. There are also a few
Android 4.3 Jelly Bean
handsets on the market too.
Samsung makes loads of these Android devices. Sony's cut the Ericsson ties but still is cranking out the Google-branded handsets. Then you've got Android-powered phones from Acer, LG, Huawei, Motorola, ZTE and many others, and while HTC has ceased the practice of releasing more phones than centipedes have shoes (they do wear them, you know) it's still one of the more prominent Android manufacturers.
FutTv : X07b7PVMTE6VW
The many variations in screen size, processor power, software features and design makes finding the best Android phone for you extremely tough.
Do you physically and emotionally need a QWERTY keyboard? Are you the sort of oddball who prefers the rough pressing needed to make resistive touchscreens work? If so, you won't find much luck here, as those technologies are sadly phased out of the Android world as buyers get enamoured by fancy, glossy capacitive touchscreens.
To help find the best Android phone for you, we've rounded up the best Android handsets out there today, rating the phones on hardware performance, OS upgrade potential and, of course, how shiny and nice they are to have and boast about to work colleagues.
So here they are - the best Android phones money can buy today. For many, many different reasons.
10. Samsung Galaxy Note 3
The Samsung Galaxy Note 3 is alive and kicking and breathes yet more life into a mobile form factor many thought would be dead on arrival, ramping up the specs and the size to give us a new monolith of mobile.
It may be big, but the 5.7-inch display is fantastic and the Full HD Super AMOLED technology makes everything pop from websites to movies.
What really impressed us with the Galaxy Note 3 though was its battery life and sheer speed under the finger. We're used to a day at best when hardcore using the device, but we got far past that without breaking a sweat throughout our tests.
Quick verdict
This is the best Galaxy Note smartphone to date, so if you're looking for a supersized handset with impressive power and a wide range of features the Galaxy Note 3 has got you covered.
9. Samsung Galaxy S4
Samsung may have been top dog in 2012, but since those glory days the sultry stylings of the HTC One and craziness of the LG G2 have proven too strong against a phone that's a slightly-better-version of its predecessor.
There's a lot to love with the Samsung Galaxy S4 with its super sharp screen, powerful camera, long-lasting battery and fluid user interface - it's got everything you could ever want in a smartphone.
It may be a little more costly than some of its direct rivals, but thankfully it's still cheaper than the iPhone. If only it was made out of something a little more premium.
Quick verdict
There's no doubt that this was one of the best smartphone ever made when it launched last year. But now that it's a year older, it isn't able to keep up with some of the newer handsets. It's still worth a second glance though, especially if you can get it nice and cheap.
8. Moto G
The Moto G rocks up with a 4.5-inch 720p display, punchy 1.2GHz quad-core processor, 1GB of RAM and pure Android 4.4 KitKat on board.
Add to that a 5MP camera, the choice of 8GB or 16GB of internal storage and connections such as Wi-Fi, Bluetooth and GPS, and you've got a pretty decent mid-range handset.
But take a look at the price tag and you'll be astounded by how little the Motorola Moto G will set you back compared to similarly specced phones.
Quick verdict
If you're looking for the best budget smartphone on the market then look no further, for the Android 4.4 toting Moto G gives you more than enough bang for your buck.
7. HTC One
Sure, it may have been replaced by the even more impressive HTC One M8 in the top spot, but last year's HTC One was so good, it still manages to hold a spot in our top 10.
Remember, this was only the third phone to ever get a 5-star TechRadar review, thanks to its stunning body, powerful processor and impressive array of features like Boomsound.
What's more, the fact it's been replaced by the One M8 means you can now grab this excellent handset at a drastically reduced price.
Quick verdict
It may not have the same staying power as the phones ahead of it now that it's a year old, but the HTC One is a powerful handset that's gorgeous to look at and a pleasure to use.
6. Sony Xperia Z1 Compact
The problem with all these flagship Android phones these days is that people with smaller hands have to struggle to use them. Fortunately, that has inspired a new range of 'mini' devices, which take elements of the flagship and shrink them down in both size and price.
The Xperia Z1 Compact is the best of the bunch. Not only does it combine the Xperia Z1's waterproof body with a range of colours, it brings great battery life and affordable price to the handset as well.
Sure, a screen that's less than 1080p may not impress everyone, but Sony's great UI and camera should keep the masses satisfied.
Quick verdict
If 5-inches is an inch too far for you, this is the pick of the smaller Android devices. Plus, it comes in a range of colours, and everyone likes colours, right?
Best Android phone: 5-1
5. Google Nexus 5
Some might say that the best thing about Google's Nexus lineup of phones is the amazingly affordable price. Others will argue its the constantly up to date firmware.
With Android 4.4 KitKat under the hood, and a great screen, it's a phone worthy of your cash. The LG G2 has a better camera at a similar price though.
That said there's something rewarding about using the clean, vanilla Android experience, so this phone is definitely worth your time.
Quick verdict
Compared to the phones ranked above it, there's nothing overly innovative about the Nexus 5. But it does everything it's asked to do exceptionally well, and that's nothing to sneeze at.
4. LG G2
LG hasn't been a brand you necessarily link to excellence in mobile phones, but the G2 has changed all that in a big way.
A fantastic screen, a great camera and great audio all make this handset well worth the price of admission.
It's got some quirks - like an overly cluttered UI and volume controls on the back of the phone, but they are easily overcome by the affordable price point.
Quick verdict
LG was responsible for the past couple of Nexus devices, and it shows that the Korean company has learned a lot from the experience. The G2 is a fantastic device at an even better price.
3. Samsung Galaxy S5
Samsung has long been at the forefront of flagship Android phones, but still manages to find itself only taking the bronze with its latest release.
The Galaxy S5 has plenty of innovation, thanks to the integrated fingerprint scanner, the magnificent screen and the replaceable battery, but the plastic (albeit waterproof) body doesn't do it any favours.
Its biggest issue - in Australia at least - is that the company has locked the dock so it can't be customised, a feature not found in the UK or US. Given Android's supposedly open nature, this arbitrary restriction seems rediculous.
Quick verdict
Don't get us wrong, this is a fantastic phone. But TouchWiz lacks the usability of the HTC and Sony user interfaces, and Samsung's design needs a refresh.
2. Sony Xperia Z2
Sony has been working hard to break back into the top echelon of the smartphone market, pumping out new flagship handsets every six months or so to try and climb its way to the top.
The strategy has almost worked, with the Z2 being one of the greatest Android handsets on the market.
Combining the Xperia Z lineup's waterproof body with a brand new 4K video recording mode and front-facing speakers, Sony's latest phone is the best its ever done, and is a pleasure to use, although it can't quite take the top spot from HTC
Quick verdict
The glass and metal body doesn't have the same style as the HTC One M8, but the phone does enough to push Samsung out of the top two. You won't be disappointed by this phone.
1. HTC One M8
HTC has done it again! After last year's breathtaking HTC One, the Taiwanese company has improved its best with the One M8, retaining the
best smartphone
around title.
From its stunning metal chassis to the inclusion of expandable memory, impressive battery life and an effective new duo-camera for after shot refocusing, the phone ticks almost every box.
Battery life is impressive, BlinkFeed works well and the Boomsound speakers outperform every other device on the market.
Quick Verdict
HTC has managed to improve the HTC One, which is no easy feat given how well we liked that phone. The One M8 has set itself up as the smartphone to beat in 2014.